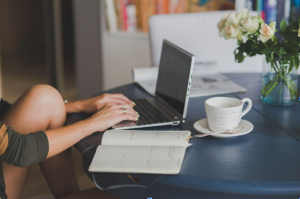 Photo via Pexels
Working remotely means you can live wherever you want and still earn a living. Why not move somewhere new? If you're looking for a change of scenery, consider packing up and moving to one of America's top cities for digital nomads. Living in an accommodating and affordable city will help you save money on living costs, network with other professionals in your industry, and enjoy reliable internet service. Today, Tik It Off covers four of the best cities in the US for working remotely.
Best Business Practices for Digital Nomads
Wherever you decide to move, make sure your online business is set up properly. Follow a few best practices for digital entrepreneurs. Start by creating a business plan describing your company and detailing how you intend to sell your services to your target audience. Your business plan should also explain how you're going to structure your company and access funding help. Learn how to start a company to find out what else you'll need to do to get off the ground. 
You'll also need to start thinking about marketing, as well. Start by spreading the word via social media channels. Think about your intended audience and where they are likely to be. If you're trying to reach a younger crowd, then try Tiktok. This video-heavy service has a huge following, and Tik It Off allows you to share other people's posts without the watermark, which makes them look more professional. 
You should also supplement your digital marketing with some old-fashioned practices like handing out business cards. Especially if you're on a tight budget, you can try a free tool and take advantage of time-tested templates, modifying them as needed.
This is also a good time to set up digital tools that will help you manage your one-person business efficiently. Digital tools designed for scheduling, project management, communication, and productivity will help you stay organized and on track, even during your move. You can also use online tools to convert documents into PDF files, the preferred format for sharing with clients or contractors. Look for online file conversion tools that offer drag-and-drop capabilities.
Where to Go as a Digital Nomad
With these tips in mind, here are a few great cities where you will thrive as a digital nomad.
Bellevue, Washington
Just 10 miles east of Seattle, Bellevue is a great place for digital nomads who want to be close to the big city without the high cost that comes with downtown living. The area offers endless opportunities for outdoor recreation. You'll also find many city parks, co-working spaces, and cozy cafes where you can relax and network with other locals. 
Learn about different Bellevue neighborhoods so you can start looking for rentals. Somerset is ideal if you're looking for compact suburban living while Meydenbauer is perfect for working professionals who want to live within walking distance of downtown.
Boston, Massachusetts
Boston is a vibrant and diverse coastal city. Offering a high quality of life, walkable neighborhoods, robust shopping opportunities, and a focus on education, Boston is the perfect place for digital nomads looking to pursue an education on the side. As Livability.com explains, there's always something to do in the city, so you'll never spend another boring evening alone after work. Because Boston is a popular place to live, and rent can be high. Expect to pay around $3,000 for a studio or one bedroom while you're in the area. 
Austin, Texas
Austin is quickly becoming the next Silicon Valley. The city is a fantastic home base for digital nomads working in the tech industry. Moving here means joining a large remote worker community, so you'll have no problem making friends with like-minded professionals. Austin offers many supportive services for digital nomads, including laptop-friendly workspaces in every shop and cafe. 
Jacksonville, Florida
Jacksonville is one of the most affordable cities on this list. If you're looking to cut your cost of living and funnel more money into your business, Jacksonville could be the place for you! Not only that, but residents enjoy year-round warm weather and beautiful ocean views. Niche suggests living in the community of Secret Cove if you're looking for trendy bars, beach access, and a vibrant atmosphere.
Find the Perfect Place(s) for You!
Where you live can impact your success as a digital nomad. Pick a home base that aligns with your budget as well as your professional and personal goals. Once you've moved and settled in, get started on your digital business! And remember, as a digital nomad you can move any time you want, so try out different places and find your happy place.