Today has been an exciting day for YouTube creators! YouTube announced the monetization of YouTube Shorts and also unveiled future plans for this year and next.
The big news of the day is definitely the monetization of YouTube Shorts which not only affects YouTube creators but will also attract a lot of TikTok creators to share their content on Shorts. Creators on the YouTube shorts platform with at least 10 million views in 90 days or less can now join and earn ad revenue from Shorts videos. Qualifying for this program is based upon 1 thousand subscribers plus 4k watch hours within 12 months up until your first payment becomes available after meeting these milestones.
Alongside the Shorts monetization announcement YouTube has sent an email to the creators informing them of other updates coming soon, let's take a look at the emails sent to the creators today!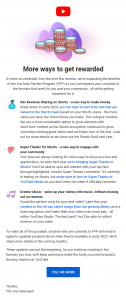 Ads Revenue Sharing on Shorts – a new way to make money
Great news! In early 2023, you can start to earn from ads that are viewed in the Shorts Feed, based on your Shorts views – the more views you have, the more money you make. This will give creators like you a more sustainable option to grow and earn with short-form content as the Shorts ecosystem continues to grow. Just keep creating great videos and we'll take care of the rest. Look out for more details as we close out the Shorts Fund next year.
Super Thanks for Shorts – a new way to engage with your community
Your fans are always looking for more ways to show you love and appreciation, so early next year we're bringing Super Thanks to Shorts! You'll be able to spot and interact with your top fans through highlighted, colorful Super Thanks comments. It's currently in testing on Shorts, but make sure to turn on Super Thanks in YouTube Studio so you don't miss out when it officially launches.
Creator Music – spice up your videos with music, without missing out on revenue
Found the perfect song for your next video? Later this year, creators in the US can select songs from our growing library, pick a licensing option, and make their next video even more epic – all within YouTube Studio. The best part? You'll be able to collect revenue on your video.
Big updates are coming!
Your creativity is at the heart of everything that YouTube stands for: from the diverse content you share to the various formats you create in – whether it's Shorts, live stream, or longer YouTube videos. That's why we're always building new ways for you to grow and get rewarded for it.
Here's a look at some of the things we're launching:
More ways to access the YouTube Partner Program
Exciting news: introducing changes to the YouTube Partner Program (YPP), which gives creators access to valuable resources and earning opportunities. Starting early 2023, Shorts views will count toward eligibility for the program. Creators can become eligible after reaching 1,000 subscribers and 10 million Shorts views over 90 days. This means more flexibility to think about how you create and build your following on YouTube, in whichever format you prefer.
Earlier access to earn with Fan Funding
Later next year, more creators will be able to unlock exclusive YPP benefits sooner in their journey by getting earlier access to channel memberships, Super Thanks, Super Chat, and Super Stickers. More details are coming in 2023, but get ready for a wave of love from your community.
More ways to earn money with Shorts
Very soon, creators in YPP can start earning money from ads that are viewed in the Shorts Feed. Plus, we're also bringing Super Thanks to Shorts videos, available to a select group of creators now and rolling out to even more creators next year.
So many exciting things for creators to look forward to! It appears that YouTube is targeting TikTok creators to share their content on YouTube Shorts as well.